By far the most famous and used Tarot card deck today is the one called Rider-Waite. It was published in 1909 and has been reprinted countless times since.
It's my favorite, too - until I find the time to make my own version, which is what I really recommend for everyone who finds delight in divination with a Tarot deck. That's how to perfect it. Anyway, read more about the Rider-Tarot deck below.

The Rider-Waite Tarot card deck was designed by the occult writer Arthur Edward Waite (1857-1942) and the artist Pamela Colman Smith (1878-1951). Rider was the name of the original publisher.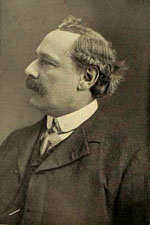 It's a charming work with great attention to detail. Waite (see the photo) was a learned occultist, so he made sure that all possible symbols and archetypical settings were included. Colman Smith made her illustrations according to his instructions, but also with a sweet artistic spirit, as if making pictures for a wonderful fairytale.
Contrary to most other decks, especially the old ones, the Rider-Waite Tarot deck has pictures on every card, each image representing a sentiment or a situation. That makes divination with them so much easier and a lot more fun. It makes a reading based on images and our impressions of them, which is something almost unique to Tarot.
I wholeheartedly recommend it. Although this and other websites have all the 78 Tarot cards of the deck online, there's something inimitable about holding the actual cards in your hands, shuffling them, and arranging them on a table. If you want to try Tarot more than once, you must get the deck - so to speak IRL.
See the Rider-Waite Tarot at Amazon.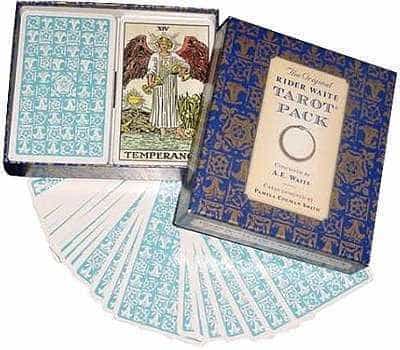 The Rider-Waite Tarot deck, still in print after so many years.
The Book
This book by Stefan Stenudd presents an imaginative reading of the divination cards, i.e. focusing on what impressions the images and their symbols give. Several spreads are introduced, as well as the meanings of all the 78 cards and their pictures. Also, it gives many examples of symbolic and allegorical imagery within and beyond the Tarot. This book will help you find your own intuitive way of making inspired Tarot card readings.
Click the image to see the book at Amazon.